Street Nuisances
As part of Retail Birmingham's ambition to create a world-class walking environment in Birmingham city centre, lobbying for more control over street nuisances continues. Together the Retail BID and Birmingham City Council are determined to bring these issues under control.
In June 2014, Retail Birmingham initiated work alongside the Birmingham Community Safety Partnership to reaffirm to Birmingham City Council that 'chuggers' (on-street charity staff who ask for your personal details) were putting people off visiting the city retail area and becoming an un-wanted nuisance. Over 93% of those surveyed said they would be in favour of stopping 'chuggers' and 84% said they were put off walking around Birmingham because of this. Subsequently, work started with Birmingham City Council to put controls in place.
Retail Birmingham and Birmingham City Centre Partnership co-funded the application to secure a Bylaw to allow Birmingham City Council to regulate this issue. Whilst the initial application for a ByLaw was turned down by the government's Secretary of State, work in this area to limit on-street charity collectors has continued.
Noise Nuisance
Over the last year Birmingham City Council, West Midlands Police and Retail Birmingham have received an increasing number of complaints from local residents, shoppers, other visitors and businesses about the activities and behaviour of some individuals and groups, including the use of amplified projected speech by Street Speakers and amplified performances by Buskers and Street Entertainers in the city centre.
In regard to Busking and Street Entertainment, singing or music being played well and at a reasonable and considerate level does enhance city centre life and everyone wants a vibrant city centre. In certain cases however, the volume of a performance or the number of performers is such that it causes a problem to nearby residents, visitors or businesses.
With regard to Street Speakers it is lawful in principle to preach religious and political beliefs on the streets of Birmingham and to hand out written material. The European Convention of Human Rights and the Human Rights Act 1998 grants an absolute right to freedom of thought, conscience and religion. The rights to manifest religious beliefs and to freedom of expression however are qualified. This means that they are rights that require a balance to be struck between the rights of the individual and the needs of the wider community or state interest.
The Anti-Social Behaviour, Crime and Policing Act 2014 came into force on the 20th October 2014. This allows the City Council to obtain a Public Spaces Protection Order to tackle a wide range of anti-social behaviour problems linked to noise, alcohol and nuisance dogs, where it appears to the City Council that these activities may be having a detrimental effect to the quality of life of those in the locality.
A consultation took place to gather views or comments on the possible introduction of a Public Spaces Protection Order to control excessive noise from Buskers, Street Entertainers and Street Speakers in the City Centre by prohibiting;
The use of amplification in the restricted area by Buskers, Street Entertainers and Street Speakers
Noise from Buskers, Street Entertainers and Street Speakers that is so loud that it has, or is likely to have a detrimental effect on the quality of life of people in the vicinity of the restricted area.
On completion of the consultation process Birmingham City Council decided against applying for a PSPO however, the city council and the Retail BID are determined to continue all efforts to control street nuisance and make the city centre a nicer place for all with the introduction of new street operation guides.
Public Realm
Retail Birmingham works closely with Amey, the highways contractor for Birmingham City Council, to ensure defects in the paving, lighting or any other street operation issues were reported and rectified quickly. The BID remain committed to ensure that the local authority maintains the public realm to an acceptable standard.
Floral Features
Retail Birmingham, throughout its term has sponsored retail themed wicker floral features within the Birmingham City Centre Floral trail during the Summer months. The features area situated at Bullring, High Street and The Mailbox, to enhance the street scene through the important summer period. The investment has helped the Floral Trail regularly win gold in the Britain In Bloom awards generating significant visitor interest and press coverage for the city centre.
Retail Birmingham continues to invest in floral features for the retail area, making the city centre a pleasant and welcoming place for visitors.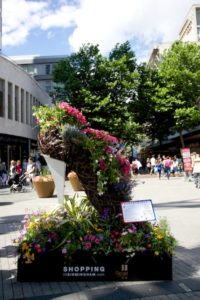 Pavement Deep Cleansing
The Local Authority do not undertake deep cleansing and chewing gum removal from retail streets as part of their statutory obligations. Throughout both terms, Retail Birmingham has undertaken this work on behalf of its members ensuring the streets remain a pleasant place to be.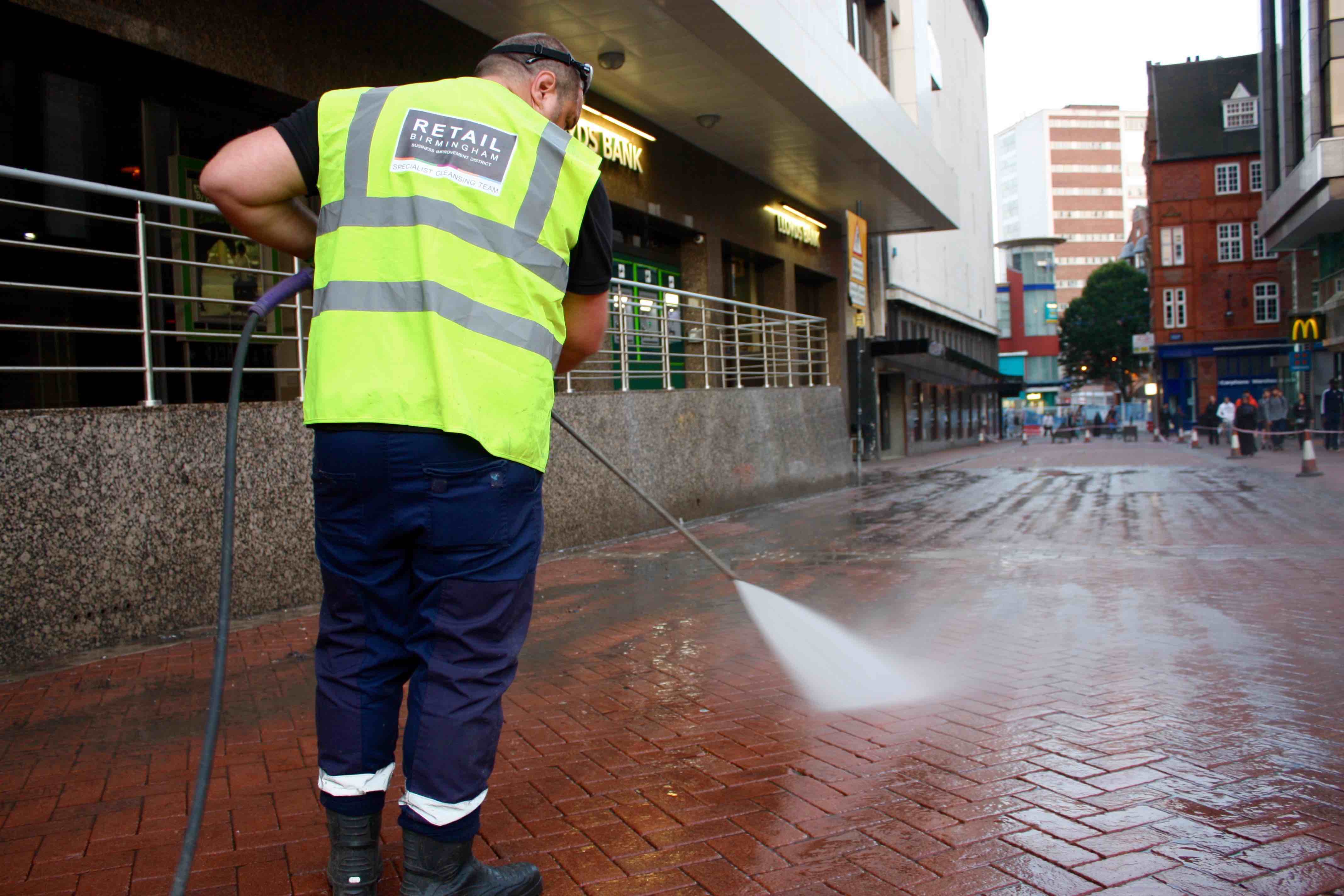 On completion of existing street works by the summer of 2015, major pavement deep cleansing took place in the retail area funded by Retail Birmingham, ensuring the city centre is looks it's best as the city welcomes a host of new retailers and customers. This cleaning regime will be treated on a regular basis throughout 2016. For information about the cleansing programme, click here